When it comes to building and maintaining a website, web hosting is a crucial element to consider. Not only does it affect the performance of your site, but it can also impact your online presence and overall success. That's why it's important to choose a reliable and reputable web hosting service that meets your specific needs.
But there are so many options available, how do you determine which host is the best fit for you? That's where we come in. We have spent countless hours researching and testing various web hosting providers to bring you the top 10 options in the market.
We've analyzed product ranges, compared control panels, explored tools, built websites, tried out customer support options, and run in-depth uptime and speed tests to ensure that these hosts are up to par. And we've also taken into account factors like ease of use, price, trustworthiness, and more.
So whether you're a small business owner, blogger, or individual looking to create a personal website, we've got you covered. In this article, we'll introduce you to the 10 best web hosting providers, highlighting their strengths, weaknesses, and pricing to help you make an informed decision.
If you're looking for an affordable, fast, and reliable web hosting service, we recommend Hostinger. Their plans start at just $1.99 per month, making it an excellent value for most people. Whether you're a small business owner, blogger, or developer, Hostinger has a plan that will meet your needs.
Best Web Hosting – At a Glance.
Hostinger – Best hosting overall
DreamHost – Best value for shared hosting
Bluehost – Best for new WordPress website
HostGator – Best for simple websites
GreenGeeks – Best eco-friendly hosting
SiteGround – Best WordPress-certified host for speed and security
A2 Hosting – Fast & reliable shared hosting
InMotion – Best VPS hosting
WPEngine – Best-managed WordPress hosting

Nexcess – Best for eCommerce hosting
There is no such thing as perfect hosting, as every web hosting option has its own positives and negatives. The best hosting choice for a particular website depends on the specific needs of that website.
Hostinger
"Best hosting overall"
Hostinger offers reliable web hosting at an unbeatable price. Their shared hosting plans start at just $1.99 per month and include free weekly backups and enough bandwidth to accommodate up to 10,000 visitors to your site. Normally, you have to pay extra for backups, but Hostinger includes them for free as part of their hosting package.
The most popular option is the Premium Shared Hosting plan. It costs $2.99 per month and allows you to create up to 100 websites and host up to 25,000 visitors. This plan also includes a free domain for one year and a free Let's Encrypt SSL certificate to secure your website.
The Premium Shared Hosting plan comes with 100 GB of SSD storage, which is plenty of space for various types of website content. If you need more storage, you can upgrade to one of their VPS or cloud hosting plans.
Hostinger uses its own control panel called the hPanel, which is user-friendly and easy to navigate thanks to its eye-catching and well-organized navigation icons. It also includes an auto installer that allows you to set up WordPress or other content management systems with just a few clicks.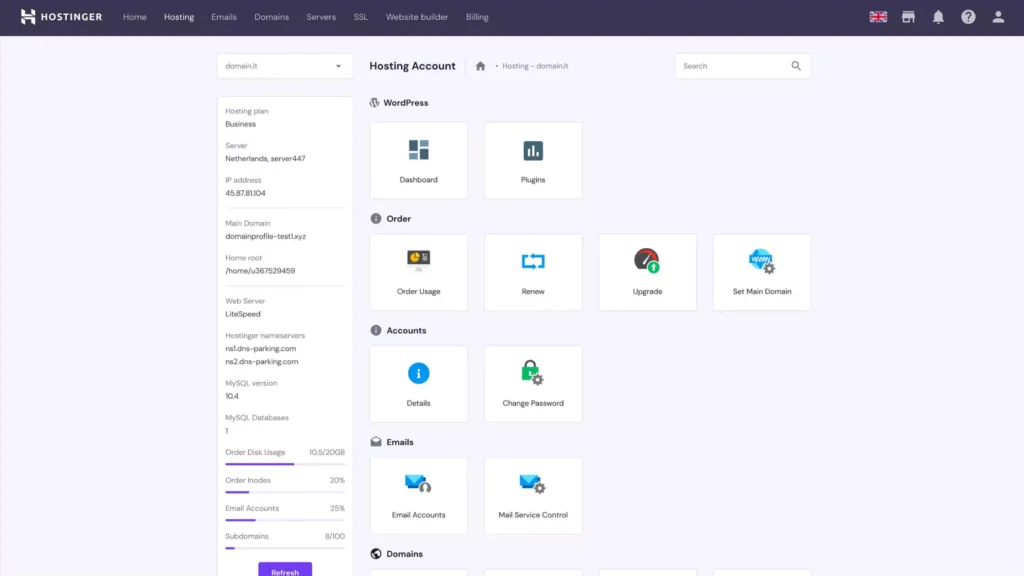 One of the standout features of hPanel is the dedicated WordPress dashboard. It allows you to manage tasks such as updating the core WordPress version, activating or deactivating plugins, and enabling maintenance mode. A navigation button also lets you access your WordPress dashboard from hPanel with a single click.
Hostinger automatically installs the LiteSpeed Cache for WordPress (LSCWP) when you set up WordPress. The server-level cache and other optimization features of LSCWP improve the speed of your website for enhanced user experience.
Hostinger guarantees 99.9% uptime to ensure that your website is always available online, and they offer quick-response, 24/7 live chat support to assist you whenever you need help.
For more information about Hostinger, including their plans, pricing, and benefits, check out our in-depth Hostinger Web Hosting Review.
DreamHost
"Best value for shared hosting"
DreamHost is a well-respected web hosting provider that is home to more than 1.5 million websites. Customers choose DreamHost for their fast websites, great prices, and clear terms.
The company offers a 100% uptime guarantee and will compensate you if your site goes down. If you're not satisfied with your hosting experience, you can cancel within the first 97 days to receive a full refund.
DreamHost's shared hosting plans are easy for beginners to use and offer advanced users everything they need without the need to upgrade. The company's shared hosting plans also provide excellent value, with features such as free daily backups, unlimited traffic, and no charge for keeping your contact information private when you register your domain.
DreamHost is a popular choice for WordPress hosting and it is one of three web hosts that are officially recommended by WordPress. It offers one-click installation and automatic updates, as well as a no-cost migration service for existing WordPress sites.
The company also includes a no-code WordPress website builder with every hosting plan, making it easy to create a new site or make changes to an existing one.
DreamHost's shared hosting plans start at $2.59 per month for one website with a Shared Starter plan. This is an excellent price for everything that many small organizations need. Customer service is available 24/7 via ticketed support, and you can also get help through email and live chat. Phone support is an additional feature for shared hosting plans.
For more information about DreamHost's plans and pricing, check out our complete DreamHost review. If you're ready to get started, sign up with DreamHost today for low-stress, high-value web hosting.
Bluehost
"Best for new WordPress websites"
Bluehost is a widely recognized web hosting company, particularly among individuals creating WordPress websites. WordPress recommends Bluehost as one of three preferred hosts, and we agree.
Bluehost offers competitive pricing and an intuitive platform that simplifies the process of managing a WordPress website. While it is possible to host other types of websites on Bluehost, it is optimized for WordPress.
Installing WordPress and accessing a range of apps through Bluehost's app marketplace can be done with a single click. Bluehost also offers exceptional analytics and SEO tools to track the performance of specific keywords on your website and optimize your site for improved search rankings.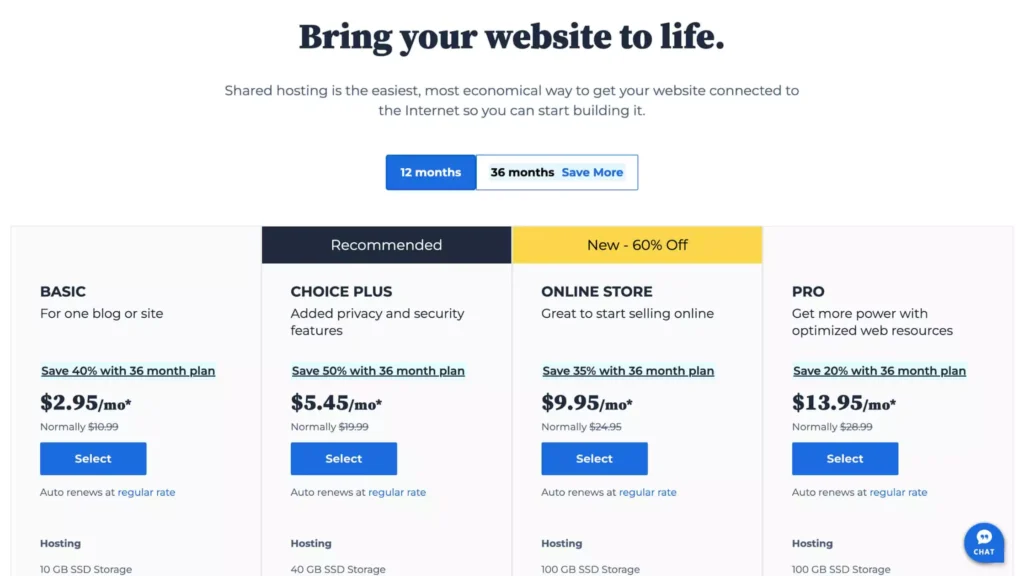 The Basic shared hosting plan is typically $9.99 per month, but new customers can access significant discounts. For example, signing up for a three-year contract will cost you $4.75 per month. It is worth noting that renewal pricing is higher than promotional pricing, so it may be beneficial to sign up for a longer contract to secure a lower price.
As your website grows, Bluehost provides various options for upgrading to managed WordPress hosting, VPS hosting, or dedicated hosting.
With Bluehost, you can easily scale your server resources and retain the same provider. Bluehost is a reliable choice for those looking to build a WordPress website, although using a content management system other than WordPress may require additional effort and maintenance.
Bluehost offers a risk-free, 30-day money-back guarantee, allowing you to try their web hosting with confidence. For a more detailed evaluation of Bluehost, you can also read our full Bluehost Web Hosting Review.
HostGator
"Best for simple websites"
HostGator offers a range of hosting options at a competitive price, along with a 45-day money-back guarantee. If you just need a standard business website with information on products, services, and your company story, HostGator makes it easy to get started.
While there is a bit of a learning curve when it comes to using their advanced options, HostGator does offer Windows and Linux hosting, as well as options to upgrade to cloud hosting, VPS hosting, managed WordPress, and a dedicated server. Shared hosting plans typically start at $2.75 per month with a three-year contract.
HostGator provides an extensive list of how-to guides for technical support, and you can also contact their team through phone, live chat, or email if you need additional assistance. HostGator includes support in all of its hosting plans, so you don't have to worry about paying extra for this service.
If you're considering trying out HostGator, we recommend taking advantage of their 45-day money-back guarantee and thoroughly testing their support before committing.
You can also check out our complete HostGator Web Hosting Review, which covers their web hosting capabilities and plan options in more detail.
Overall, HostGator is a good choice for simple deployments, like a small business website that doesn't experience a high volume of traffic. However, with VPS options available, you can scale up your hosting as needed.
GreenGeeks
"Best eco-friendly hosting"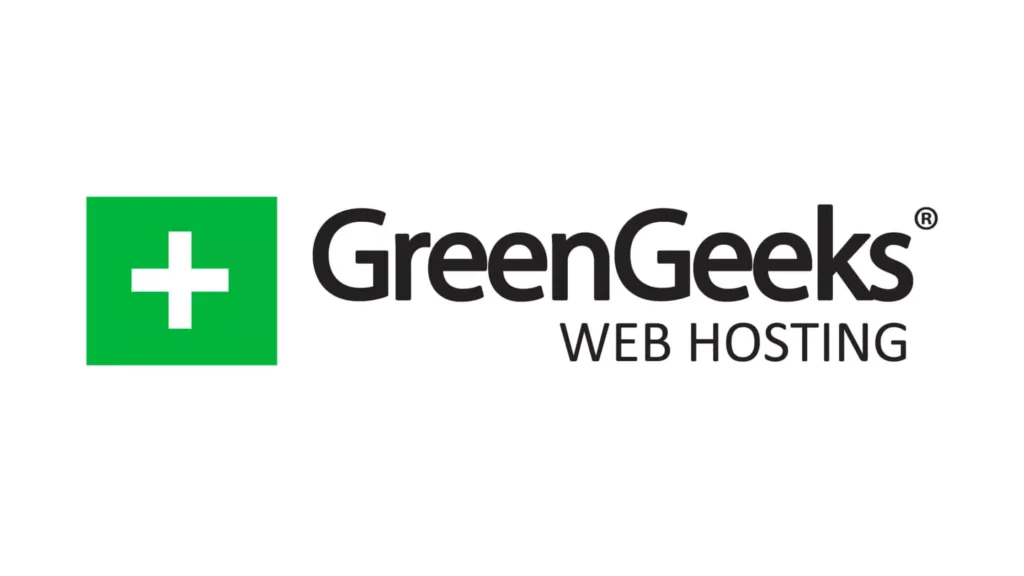 GreenGeeks is an eco-friendly web hosting provider that uses renewable energy to power its services. This means that not only can you create your website with GreenGeeks, but you can also feel good about supporting environmental sustainability. In addition to being environmentally friendly, GreenGeeks offers high-quality web hosting services.
Their offerings include fast speeds, reliable uptime, and a range of solutions, including WordPress Hosting, WooCommerce Hosting, Reseller Web Hosting, Virtual Private Servers, and Shared Hosting.
GreenGeeks is a reliable hosting provider that offers a range of features to help you manage and maintain your WordPress site. These include:
An automatic one-click WordPress installer
Regular updates to keep your site up to date
Daily backups to protect your data
In addition to these standard features, GreenGeeks also includes advanced security measures and stays up to date with the latest technology such as PHP8, SSD, and CDN to ensure that your website stays fast and secure.
If you need help or have any issues, GreenGeeks offers 24/7 support by phone, chat, or ticket system. The support team is known for being responsive and able to assist with a variety of issues.
Bottom line: GreenGeeks is a great choice for businesses and websites that prioritize both performance and sustainability.
GreenGeeks is an excellent choice for environmentally-conscious individuals and businesses who are looking for a hosting provider with a commitment to sustainability and great service.
SiteGround
"Best WordPress-certified host for speed and security"
SiteGround is a top-class hosting provider that is optimized for speed and security for WordPress sites. Hosting with SiteGround means that you can trust in their technology to keep your site fast and secure.
SiteGround uses Google Cloud to maintain fast and stable connections, and SSD persistent data storage to reduce latency. They handle all of the technical details on the backend, so you can focus on launching and managing your WordPress site.
SiteGround is constantly on alert for security threats. They run server health checks every 0.5 seconds, and their AI-driven anti-bot system blocks between 500,000 and 2 million brute force attack attempt every hour.
In addition, as a recommended web host for WordPress, SiteGround includes an extra layer of security specifically for WordPress sites.
All SiteGround plans, including their WordPress hosting options, come with one-click WordPress installation, the WP Starter site builder, and automatic updates for both the WordPress platform and its plugins.
Currently, SiteGround is running a promotion where you can get up to 80% off all annual hosting plans. This also includes a free website transfer. For a limited time, you can get the following prices on annual SiteGround hosting plans:
StartUp: $2.99/month for one year, paid annually
GrowBig: $4.99/month for one year, paid annually
GoGeek: $7.99/month for one year, paid annually
Please note that the rates will renew at a higher rate after one year. However, SiteGround also gives you the option to pay for a 24-month or 36-month term at checkout, which comes with a 20% or 30% discount on the base renewal rate, respectively.
Bottom Line: SiteGround offers the best technology and services to host your WordPress site and keep it fast and secure for all visitors.
For more information, you can refer to our full SiteGround Web Hosting Review.
A2 Hosting
"Fast & reliable shared hosting"
A2 Hosting is known for its fast speed and low prices. The company stands out in all hosting tiers – shared, VPS, and dedicated – by offering faster speeds than other hosts. If you're currently using another shared web host, you'll likely see an improvement in loading speed after switching to A2 Hosting.
You'll get access to their Turbo Servers with their Turbo Boost and Turbo Max plans, which are claimed to be 20x faster than their other servers. The Turbo Servers offer several enhancements, including:
40% faster AMD EPYC CPU performance
2x faster to first byte
Ability to handle 9x more traffic
3x faster read/write speeds with NVMe drives
In addition to fast speeds, A2 Hosting also has a 99.9% uptime commitment on all plans, ensuring that you have a reliable host that is rarely down.
A2 Hosting offers free site migration with each of their plans, making it a great option for those looking to switch from a bad host. This service can save you hours of time and effort in rebuilding your site, as the A2 Hosting team handles the migration for you.
In addition to site migration, A2 Hosting provides 1-click installs for popular CMS tools such as WordPress, Magento, and Drupal. Their plans start at $2.99 per month for a single website, and you can host multiple websites with the Drive plan, which costs an extra $2/month after the promotional period ends.
To save money with A2 Hosting, you can take advantage of their promotional prices, which end on renewal. To lock in the 63% discount for as long as possible, you can choose the tri-annual billing option, which bills for three years at once and gives you two years of hosting for free.
For more information about A2 Hosting and their plan options, you can refer to our A2 Hosting review.
InMotion Hosting
"Best VPS hosting"
If you're looking for a virtual private server (VPS) hosting provider, InMotion is a great choice. They offer competitive pricing and top-notch customer support, which is often sacrificed for a better price with other hosts.
VPS hosting gives you more control over the server than shared hosting, but it requires a certain level of technical expertise to configure a server. If you're not confident in your command line skills, InMotion also offers managed VPS plans that handle the technical details and monitor security for you.
For developers, InMotion VPS includes optional root access with every plan, allowing you to make the necessary changes to the server without having to upgrade. InMotion is a reliable choice for VPS hosting that offers great value and customer support.
InMotion is a great choice for VPS hosting, with excellent customer support and the latest technology. You can try out their customer support for yourself during the 90-day free trial period.
InMotion's VPS hosting is ideal for eCommerce websites, as it ensures that your site has the resources it needs to handle traffic spikes and provides a fast and smooth shopping experience for customers.
The hosting platform also includes fail-safes to ensure that your site stays up and running, including the ability to automatically spin your site back up on a server in the same cluster if anything happens to your server.
All InMotion VPS plans come with AutoSSL, which allows you to easily enable SSL certificates to protect your customers' credit card information. With InMotion VPS, you can get the speed you need along with the peace of mind that your site is safe and secure.
Managed VPS hosting starts at $19.99 per month. Visit InMotion to see if you can get an even better deal today. For more information, you can refer to our InMotion web hosting review.
WP Engine
"Best managed WordPress hosting"
WP Engine is often recognized as a top choice for WordPress hosting. They offer a highly optimized product specifically designed for WordPress websites, with plenty of storage and speed to accommodate your blog or online store.
However, it's worth noting that a fully managed WordPress host is generally more expensive than shared hosting providers.
The lowest-priced plan from WP Engine starts at $20/month and allows you to host one 10GB site with a maximum of 25,000 visitors per month. If you're looking for top-notch WordPress hosting, WP Engine is definitely worth considering.
While WP Engine is more expensive than other hosts, it's an excellent option for WordPress site owners due to its optimized infrastructure and maintenance tasks that are taken care of automatically.
As a managed WordPress host, WP Engine only serves WordPress users, ensuring that its entire infrastructure is optimized for WordPress. This results in a fast and reliable site with minimal downtime.
WP Engine also offers special plans for online stores built with WordPress, which are more expensive than managed WordPress hosting but include access to premium WordPress eCommerce themes and other valuable tools.
WP Engine is focused specifically on WordPress, with a knowledgeable staff available through tracked tickets and live chat 24/7.
If you want a fast and well-maintained WordPress site, WP Engine is worth considering. You'll be paying more for a lot in terms of features and support. For a comprehensive comparison, you can read our complete WP Engine WordPress Hosting Review.
Nexcess
"Best eCommerce hosting"
Nexcess, a web hosting solution from Liquid Web, is highly regarded for its dedicated, VPS, and WordPress hosting services. It specializes in managed eCommerce hosting, making it an ideal choice for users seeking a fast website without the complexities of backend configuration.
With a focus on managed hosting plans, Nexcess supports a diverse selection of eCommerce platforms, including Magento, WooCommerce, WordPress, Drupal, BigCommerce, Sylius, ExpressionEngine, Craft CMS, and Orocrm. This eliminates the need for users to handle server setup or troubleshooting.
For enhanced speed, Nexcess offers the Cloud Accelerator feature, which optimizes the cloud stack and significantly improves website loading times. This performance boost is crucial for retaining and engaging customers.
Nexcess caters to the specific requirements of eCommerce hosting, providing reliable solutions and various tools to help businesses build and maintain successful online stores.
With pricing starting at $15.83 per month (with an annual contract) for WordPress hosting, Nexcess offers flexibility to accommodate different budgets and scalability needs. Their dedicated support team is available 24/7 to address any technical concerns promptly.
Whether you operate an existing eCommerce website or are launching a startup with growth prospects, Nexcess is a worthy contender. Pricing varies depending on the chosen CMS platform, with WordPress plans starting at $13.30 per month.
Nexcess stands out as a dependable choice for managed eCommerce hosting, offering a diverse range of platforms and tools to support the establishment and success of online stores.
Types of Web Hosting
Choosing the right type of web hosting is crucial for the success of your website. It determines the level of performance, security, and control you have over your online presence. There are several types of web hosting available, each designed to meet different needs and requirements.
Let's explore the different types of web hosting and their main features, so you can make an informed decision on the best option for your website.
Shared Hosting
Shared hosting is a cost-effective solution for hosting websites where multiple websites are hosted on a single physical server. Resources are shared among the websites, keeping costs low. It is suitable for those small sites or blogs that are just starting out with their online presence or for those who do not need a lot of resources for their site.
Reseller Hosting
Reseller hosting allows you to buy hosting resources at wholesale prices and sell them to your clients for a profit. It's suitable for web developers, design firms, or those wanting to start a hosting business. You can create your own branded hosting service and set your own pricing. It's flexible and convenient for providing hosting services to clients while maximizing earning potential.
VPS Hosting
A VPS is a type of hosting that creates multiple virtual servers on a physical server, each with its own OS and allocated resources. VPS hosting is suitable for businesses that need more resources and control than shared hosting but doesn't need a dedicated server. It offers flexibility, customization, and scalable resources.
Dedicated Servers
Dedicated hosting is a type of web hosting that provides a physical server with all of its resources reserved for a single client or purpose. It is suitable for high-traffic, resource-intensive businesses and requires technical expertise to manage. Dedicated servers offer top performance and reliability, but may not be the most cost-effective option for smaller businesses or those with limited hosting needs.
Managed WordPress Hosting
Managed WordPress hosting is specifically designed for WordPress websites. With managed WordPress hosting, the hosting provider takes care of the technical aspects of running a WordPress site. Be it software updates, security, or performance optimization, they'll take care of everything.
Cloud Hosting
Cloud hosting is web hosting that distributes resources across multiple servers to maximize uptime. Instead of relying on a single server, a website hosted on the cloud can access a "cluster" of servers that share resources from a centralized pool. This ensures that if one server fails, another will take over to keep the website running smoothly.
Bottom line 
Regardless of the size or purpose of your website, it is important to choose the best web hosting services to ensure reliable and fast performance. The right host can have a significant impact on the success of your website.
Based on our testing, we have determined that Hostinger is the top web hosting provider in 2022. It offers competitive pricing, excellent performance, and a range of useful features to make managing your website easy.
If you have experience with other web hosting services, we would love to hear about it in the comments below. Please share your thoughts with us.
Best Web Hosting FAQs
What is web hosting?
Web hosting allows you to publish your website on the internet by storing the files of your site on servers owned and maintained by a web hosting provider. In addition to providing storage space, web hosting providers also handle software updates, maintenance, security, and customer support.
By choosing a reputable web hosting provider, you can focus on creating and designing your website without worrying about the technical aspects of keeping it online.
What is the best website hosting in 2023?
Hostinger is the best website hosting provider in 2023 because of its affordable prices and high-quality services. All the hosting providers mentioned in this article offer great solutions, but Hostinger stands out for its exceptional value and performance.
Can I host my website for free?
Although it is possible to host a website for free using certain services, this option is generally not recommended due to the unreliable and potentially insecure nature of free hosting. Instead, you can find affordable hosting options that offer high-quality service.
One way to find good deals on hosting is to look for Black Friday or New Year web hosting offers. This can help you get quality hosting at a lower price. It's important to prioritize quality and security over saving a few dollars by choosing a free hosting service.
Can I switch web hosting companies?
If your current web hosting company is not meeting your expectations, it is easy to switch to a different provider. Many hosts offer free or automated website migration services to make the process smooth and hassle-free. Consider switching to a new host if your current one is not meeting your needs.
Can I host my own website?
While it is technically possible to host your own website using a personal computer as a server, this is not a practical solution in most cases. In addition to setting up software, you also need to ensure that your server is always connected to the internet. This can be challenging.
Additionally, any interruption in electricity or internet service would result in your server and website being offline. It is generally more reliable and cost-effective to use a professional hosting provider rather than hosting your own website.
How much does it cost to host a website?
The cost of website hosting can vary widely, with prices ranging from $1 to over $999 per month. Shared hosting is the most common and affordable option, with prices typically ranging from $1 to $15 per month.