After expanding to France and Germany last month, Instagram Reels made its way to India. After expanding to India, the Instagram Reels now live in Brazil, France, Germany, and India.
The Instagram Reels comes to India at a time when the Government of India poses a ban on several Chinese apps including TikTok. Instagram was reportedly testing the Reels in India last week. You can find the Instagram Reels feature integrated into the app itself. The feature has a dedicated section on the Profile and Explore page. But don't forget to update the app to its latest version.
The Reels feature lets users create videos on the app, add creative filters and music and share it beyond their regular followers, said Vishal Shah, VP of Product, Facebook.
According to Vishal Shah, VP of Product at Facebook, about 45 percent of all videos posted on Instagram are 15 seconds or less, which is one of the reasons why the company is now focusing on Reels after shutting down Lasso earlier this month. "We also realized that stories are not the only place where they wanted to share these videos as they wanted them to stick on for longer and be distributed beyond their followers," he said in the video call.
As reported by TechCrunch, Instagram has collaborated with artists and influencers including Ammy Virk, Gippy Grewal, Komal Pandey, Jahnavi Dasetty aka Mahathalli, Indrani Biswas aka Wondermunna, Radhika Bangia, RJ Abhinav and Ankush Bhaguna to populate Reels content.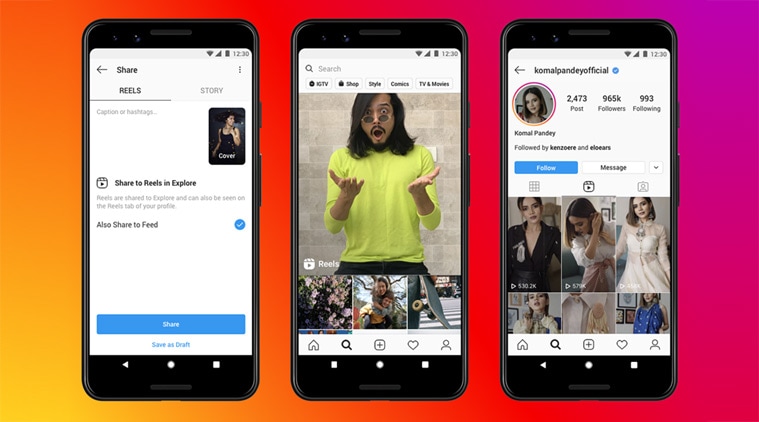 After receiving the demand of a separate space to explore and post their Reels from creators, Instagram has introduced a dedicated Reels section on the Explore page where users can check out videos from different content creators. Just like IGTV, users will also have a Reels section on their profile page, where all their content can be viewed at once.
Calling Reels as the "future of entertainment," Facebook's VP Vishal Shah said that the ultimate goal of launching the Reels in India is to push the Indian content creators and help them become potential "global stars."
Calling Reels as the "future of entertainment," Facebook's Vice President of Product Vishal Shah said that the superior goal of Reels was to push Indian content creators and help them become potential "global stars."
Other than Instagram, many more companies are aiming to use the current opportunity in the right way as the TikTok is no longer accessible in India. Indian Apps like Mitron and Chingari are attracting a lot of new users and giving a tough competition to established players like ShareChat's Moj and Gaana HotShots.
How to create Instagram Reels
Select Reels at the bottom of the Instagram camera.
Click on the Audio option and search for a song from the Instagram music library for your Reel.
Just like TikTok, you can also use your own original audio by simply recording a Reel with it
You can add AR Effect to make your Reel interesting and different from others and also set the timer to record any of your clips hands-free.
There's also an option to speed up or slow down part of the video or audio.