If you are a PUBG Mobile fan, you may be worried that the game could be banned by the Indian Government anytime soon. In fact, ever since the Indian Government banned 59 Chinese apps, it is pretty much known that PUBG will soon be on the radar as well.
Indian Government is reportedly taking a look at more than 275 Chinese apps for a potential ban, after a ban on over 100 apps has already been ordered, rumors are that PUBG Mobile could finally be banned in India.
While so far there has been no decision on whether or not PUBG Mobile will be banned in the country, it seems Tencent is not in a mood to take risks. The company has updated its privacy policies for India And has been showing up a pop-up notification when users open the game to inform users about the changes made in PUBG Mobile's Privacy Policies.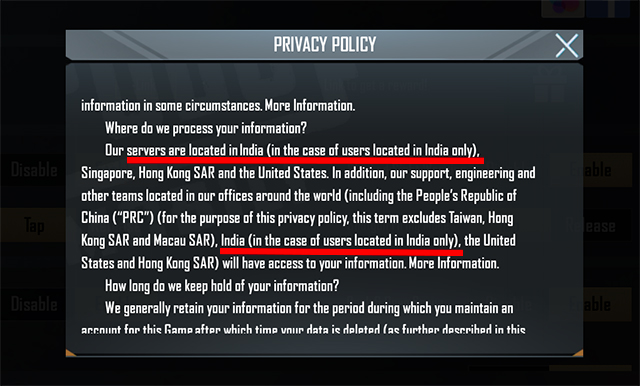 The new privacy policies are enough for us to say that the company is trying to align itself with the Indian government's demands of foreign apps. The policy states that while it stores some user data for a variety of reasons, for Indian users, those servers are in India itself.
The company also highlights that the supports team which has access to user data is also present in India itself, only for Indian Users. It is expected that the change in privacy policies can put PUBG out of the list of Chinese apps, which could be banned by the Indian Government. If you love playing PUBG Mobile, just hope for the best, and get in as many games as you can… just in case.