Perhaps you're wondering when screen capture could come in handy? The possibilities are endless! Any situation where you need to convey a complex idea and want to prevent confusion is a potential opportunity, but not the only circumstance when it would make sense to use an image or video captured from your screen.
Screen Recording has become an essential need for businesses, not least for online training and education purposes.
As there is no dearth of screen recorders, you are spoilt with choices. Considering the various needs of the users, we have picked some advanced and easy-to-use Screen Recorders for Mac users.
Whether you need something simple and free or the advanced features of paid software, we've rounded up the best screen recorders for Mac to help you decide.
With that said, let's get down to the business straight away!
Best Screen Recorders for Mac
Camtasia
Camtasia is an all-in-one screen recording software that offers both Screen Recording as well as Video Editing tools. Camtasia offers all the Professional level features and tools which makes it one of the best screen recorders for macOS.
The Software provides you with a variety of tools that gives you more control over essential aspects. The studio-like layout with a layered timeline allows smooth editing and mixing, enabling you to create screencast videos like a pro.
Camtasia also offers a series of visual effects like "Green-Screen" mode, which helps you to put yourself in a video as if you were part of the actual video. Additionally, the software also gives the ability to turn any short video into an animated GIF.
But what has caught our eyes in this powerful screen recorder is the "Favorite" feature. This feature allows users to put all the frequently used tools in one place. So every time you don't have to find a specific tool.
Camtasia is loved by most professionals for its top-notch Screen Recording and Video Editing capabilities. The only downside of Camtasia is expensive. At the time we wrote this article, it was $249 for up to four users. Fortunately, it offers a free trial, so you can try out the features before you make the purchase.
Price: $249, 30-day free trial 
Website: Camtasia
ScreenFlow
If Camtasia claims to be the leader of the pack, ScreenFlow is not behind in the game either. It is one of the best screen recorder for Mac in the market. In fact, ScreenFlow has an edge over Camtasia in quite a few aspects. Just like the Camtasia, ScreenFlow also offers both professional level Screen Recording as well as Video Editing Tools, and it's up to the task.
ScreenFlow with its intuitive user interface makes it easy for the users to learn the software. ScreenFlow also offers a similar set of tools like Camtasia, but they are a tad easier to master.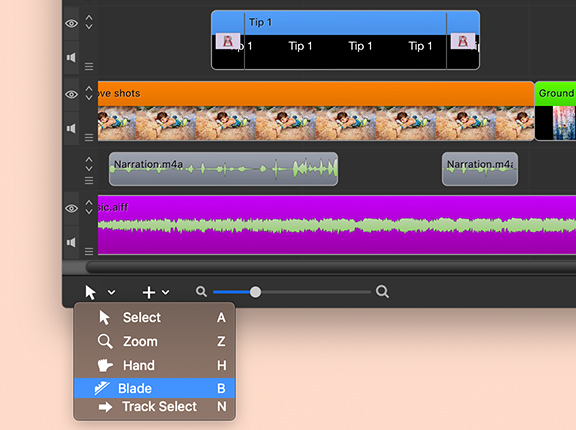 ScreenFlow can also record video not just from Mac's screen, but also from a connected iPhone, iPod touch, or iPad. The software also offers the highest bitrate for recording a retina display (30fps).
You have a lot to experiment with, as ScreenFlow has a media library with tons of royalty-free images, videos, and tracks, along with some really cool Transitions and Motion background. The Software also has a multi-track timeline that provides visual manipulation of elements.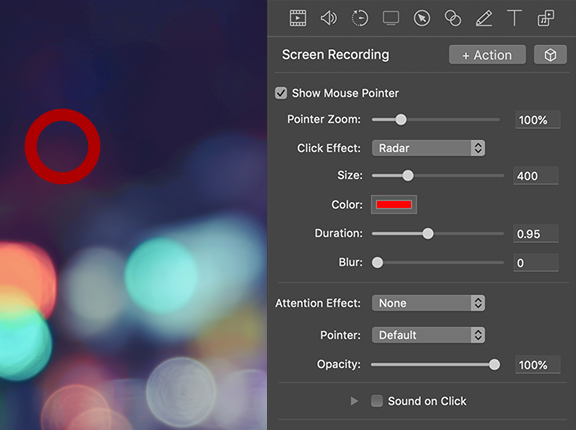 Considering all the features and tools, ScreenFlow is a great software that just not records the screen of the Mac but also gives you the ability to edit the Video without having to go through a steep learning curve.
Price: $129 
Website: ScreenFlow
Snagit
Snagit is another screen recording software for macOS from TechSmith! If you don't need the professional tools that Camtasia offers, but need the same reliability as the Camtasia, then probably the Snagit is the right choice for you.
Snagit offers a lightweight interface and is also much easier to get used to. The main focus of this software is to add annotation both in stills and video formats. Snagit also comes with the ability to record screens and webcams simultaneously, which is a very useful feature.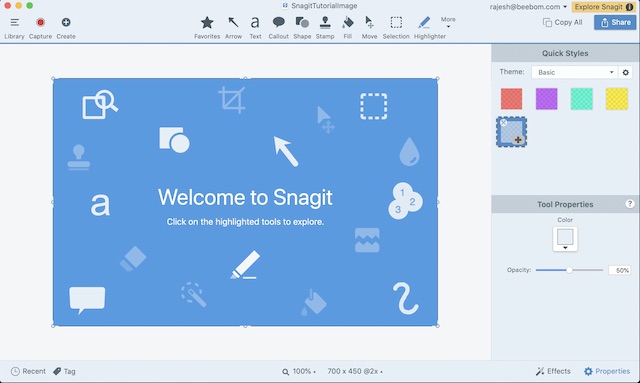 Snagit lacks a wide range of effects and timeline controls that are there in Camtasia. Snagit has a unique "scrolling capture" mode that will take snapshots of long web pages for easy sharing.
Additionally, you also get the ability to directly export the projects to Camtasia. At $49.95, Snagit is one of the cheapest screen recording software for macOS.
Price: $49.95, 15-day free trial (available for both macOS and Windows)
Website: Snagit
Screencast-o-Matic
Screencast-o-Matic is the most interesting Software on our list of best screen recorders for Mac. Screencast-o-Matic is an online Screen Recording software that provides a hassle-free screen recording experience. This is also the first software on our list which offers both free and premium versions of the software.
To use Screencast-o-Matic, you need to install a launcher on your Mac, while recording sessions are initiated through the website.
The free version of Screencast-o-Matic allows users to record the screen for up to 15 minutes in a 720p video alongside webcam and mic input.
The Premium version costs $1.5/month (billed annually) and removes all the limitations and introduces a lot of new features like real-time editing, recording system audio, editing videos post-shooting, and more.
Price: Free, $1.5/month 
Website: Screencast-o-Matic
Movavi
Movavi is the most cost-effective Screen Recorder for macOS. While Movavi may not be a feature-packed software, it still proves to be a good contender balancing both the worlds – a highly reliable software with an affordable price tag. Movavi has easy-to-use tool tools and the software is easier to learn.
The software makes it very easy to set up the recording parameter according to your needs. Users just have to select the area which they need to record and adjust the settings in line with your requirements. Once the Screen recording is done, you also have an option to edit the video with all the basic tools that are provided by Movavi.
Moreover, you can also schedule recording, add mouse effects, and even convert videos with the SuperSpeed tool to export it in high quality.
Price: $59.95
Website: Movavi
Apowersoft
Apowersoft is one of the most intuitive Screen Recorder for Mac in the market. The Apowersoft has a very easy interface as well as an intuitive nature which helps you to record your screen and customize the video to suit your needs better with just a little effort.
Apowersoft offers a professional level of tools that can meet most of the requirements. So, whether you are willing to make demo videos for training or tutorials, Apowersoft helps you record and edit the video with ease.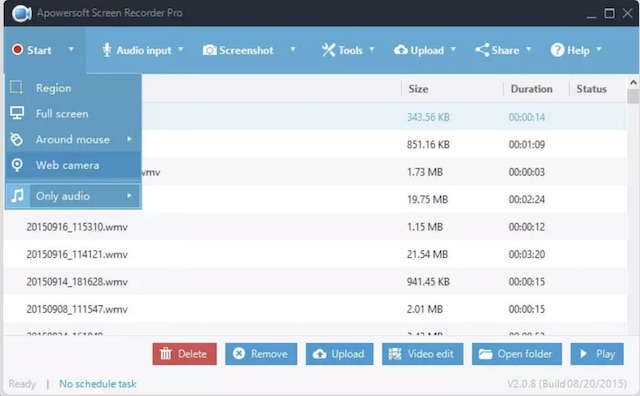 Apowersoft lets you capture the entire screen or only a part of the screen, whichever suits you the best. The software also comes with the ability to keep videos synchronized with audio. Moreover, it also does a pretty good job of recording through the webcam or snapping the screen along with the webcam.
Another feature that puts Apowersoft ahead of many competitors is real-time editing during recording videos. The software lets you edit the videos while the software is recording the screen. And with several effects at your disposal, you can transform the look of your screen recording.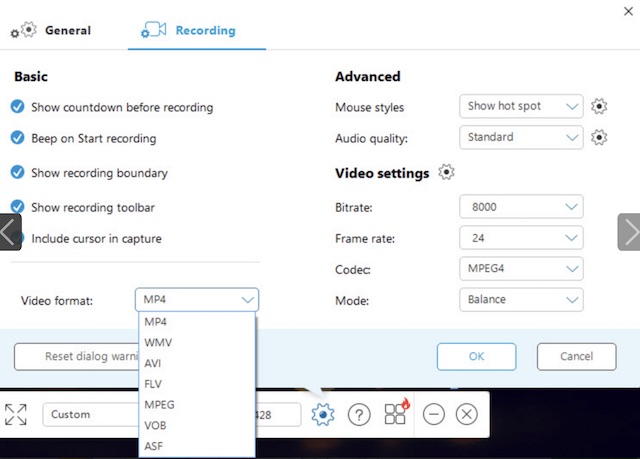 Apowersoft also lets you render the recorded video in multiple formats including MP4, AVI, WMV, MOV, and more.
The software also comes with cross-platform functionality (macOS, iOS, Windows, and Android) which, makes it a strong contender for your professional needs.
Price: $69.95 (original price: $259.85)
Website: Apowersoft
TinyTake
TinyTake is not as feature-riched as the other softwares we have discussed above, but it definitely packs a solid punch – much above its weight. And the best part of the TinyTake is that it's absolutely free of cost.
TinyTake makes it easy to record videos, add comments, and share them with others. It also lets you capture the entire screen or a customized portion of the display, whichever suits you the best.
TinyTake lets users record the screen for up to 120 minutes, which is enough for most of the users. The software also comes with an annotation tool, which allows you to add cool customization to your videos.
The Software also lets you easily publish the video online or create a shareable link after the video has been created. Overall, TinyTake is one of the best free screen recorders for Mac – hands down.
Price: Free
Website: TinyTake
VLC
You might be surprised to see VLC on our list of Best Screen Recorders, but VLC also offers a screen capture option that is quite sufficient for most people's needs. If you are looking for a handy screen recorder to quickly record your screen and share your recorded video, then VLC may be the software you are looking for.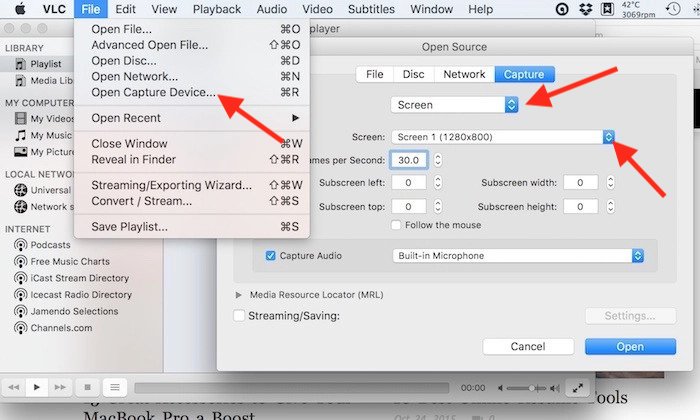 To access this hidden feature in VLC, navigate to the File menu and Open Capture Device, where you need to change the source selection to Screen. VLC also allows you to make some basic adjustment changes like choosing the suitable audio input device, choosing frame rate (Offers up to 30fps), and allowing following the mouse option for the easier focus of the viewers. Adding to all that, VLC is absolutely free of cost.
Price: Free
Website: VLC
OBS
OBS is another very powerful Software to record sreen on your Mac. It is available for free and offers a lot of that we generally find only in paid software. But the reason why we have put OBS (Open Broadcaster Software) at number nine is that the OBS is a bit difficult for an average user to learn. OBS has a very steep learning curve, which makes the software unsuitable for some users.
However, the OBS is a very powerful software and offers professional-level tools and assets for both Audio and Video editing. Additionally, the software also has an option to capture a number of different presets including a specific window, region, or full screen.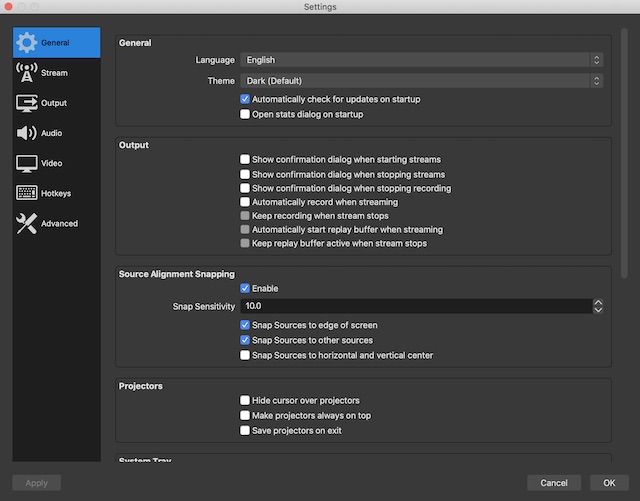 Plus, the software lets you fine-tune several parameters when recording video, which can be very helpful when you want to have precise control. OBS is indeed a very powerful software that you should explore. The best part is that you get all the Pro level tools free of cost, what else you need?
Price: Free
Website: OBS
Monosnap
Monosnap is a very simple screen recorder that is best suited for users who want to create training videos and tutorials. The software comes with all the basic tools which make it quite easy to capture the screen. The Monosnap appears in the status bar itself, which makes recording your screen just a click away.
Monosnap also comes with a handy 8x magnifier, which allows you to adjust the pixel area. The software also gives you the flexibility to customize hotkeys to record screen on your Mac. The Software does a fairly good job of recording both webcam video and microphone audio. Monosnap isn't totally free, you have to make in-app purchases to unlock some of its features.
Overall, Monosnap is one of the finest and flexible Screen Recorders that are available for free of cost for the macOS.
Price: Free, in-app purchases available 
Website: MonoSnap
Choose the Best Screen Recorder for your Mac
Mac users also have an option to use QuickTime Player for recording screen on macOS. The QuickTime Player has a simple interface, easy-to-use tools as well as a very reliable performance which makes the Software a suitable option for most of the users. But the major downside of the QuickTime Player is that it lacks pro-level tools. So we have listed out some of the best Screen Recorder for the Mac which you have already seen above.
So which one will you prefer? We would be glad to know that in the comments below. Also, if you think we missed a good screen recording software, share it with your fellow readers.